Father
Aldo Rossi , the SSPX Prior at Albano, Italy said on Sunday morning that he would speak with the SSPX District Superior in Italy Don Pier Paulo Petrucci to clarify the phrase 'via eccezionale'(exceptional way) used by Fr.Jean Marie Gleize in his book
Vaticano II- Un Dibattito Aperto (Editrice Ichthys) 2013 which is published by the SSPX District Italy, Albano,Rome.It has a preface written by Bishop Bernard Fellay and has been approved by Father Petrucci.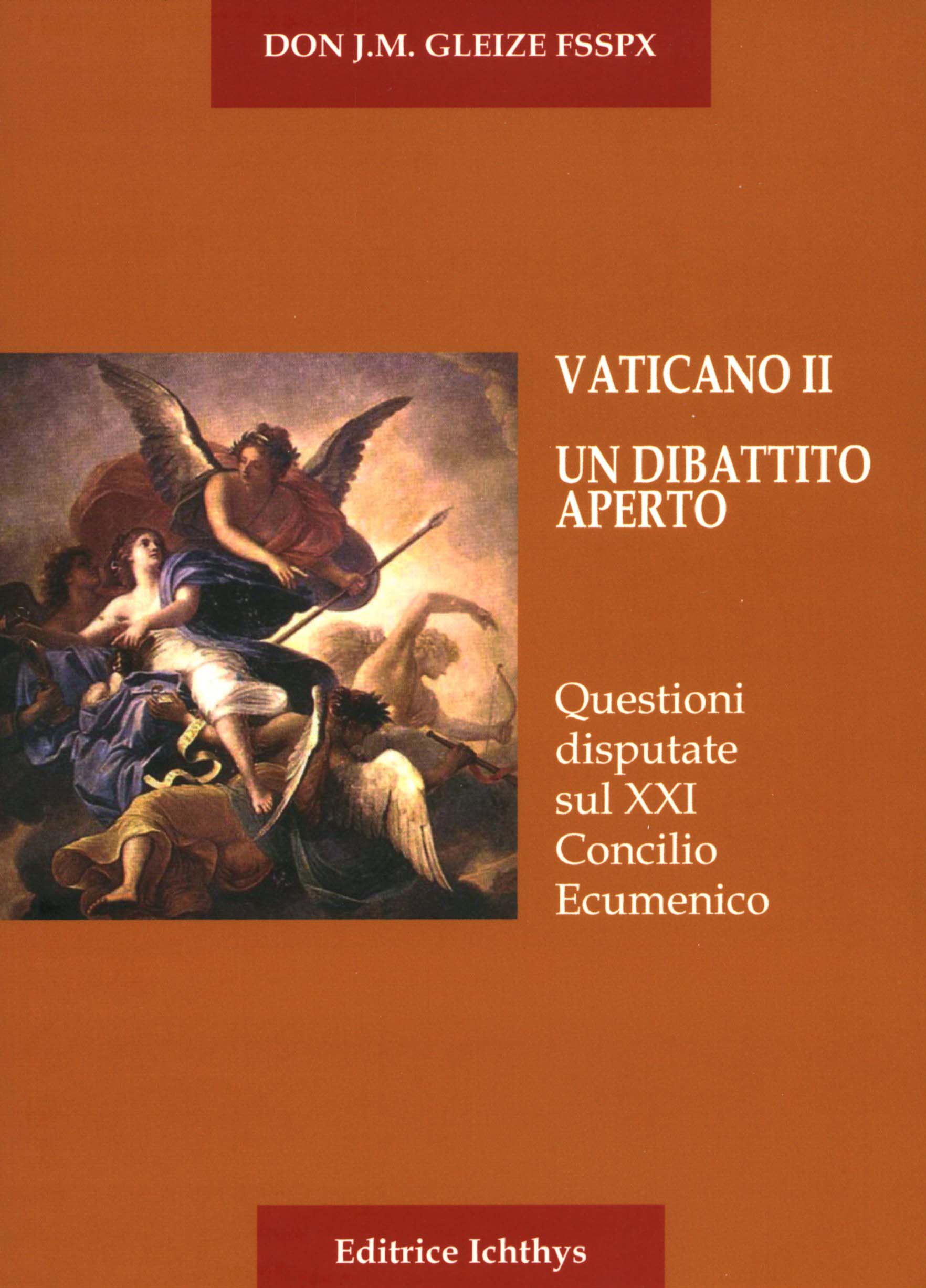 '19.Risposta alla terza obiezione: in Mystici corporis Pio XII dice che

in via eccezionale

ci si può salvare al di fuori dei limiti visibili della Chiessa Cattolica...'-Don J.M Gleize FSSPX (p.152. Editrice Ichthys.VIII Il 'Subsistit in'-Status Quaestionis),Vaticano II-Un Dibattito Aperto Questioni disputate sul XXI Concilio Ecumenico
The SSPX Prior and myself agreed that there were no known exceptions to the dogma extra ecclesiam nulla salus.This is also the position of other SSPX Italian priests with whom I spoke to in Rome.
For Fr.Jean Marie Gleize Vatican Council II contradicts the dogma extra ecclesiam nulla salus since there are known exceptions mentioned in the text of the Council.So Vatican Council II for him, is at odds with the traditional teaching on other religions and Christian communities and churches.
I had wanted to speak to the SSPX District Superior in Albano and tell him that there were two fundamental interpretations of Vatican Council II, Cushingism and Feeneyism and that the SSPX was using the irrational and heretical Cushingism, as was Fr.Gleize.
The Council is ambigous if Cushingism is used and it is not ambigous on the issue of other religions and Christian communities if Feeneyism is used in the interpretation.
When Archbishop Marcel Lefebvre mentioned the Hindu in Tibet who could be saved in his religion, this case according to Cushingism, is known to us in the present times and so is an exception to extra ecclesiam nulla salus. It would be the 'via eccezionale'. According to Feeneyism this case is not known to us personally and so cannot be relevant or an exception to the traditional interpretation of the dogma on exclusive salvation in the Catholic Church.So there is no via eccezionale. The baptism of water is the only way of salvation for all in 2013. The baptism of water is given by the Catholic Church to adults with Catholic faith.
So when Vatican Council II refers to a non Catholic who can be saved in his religion (NA 2 etc), there are elements of sanctification and faith in other religions (LG 8), invincible ignorance and a good conscience (LG 16), seeds of the Word...(AG 11) and imperfect communion with the Church (UR), we have possibilities, hypothetical cases, probabilities, what is accepted in principle and in faith but with no known reality. There is no defacto case in the present times.For these cases to be exceptions they would have to be known in 2013 . So every one in 2013, with no known exception, needs Catholic faith and the baptism of water for salvation ( to go to Heaven and avoid Hell).
There has been no clarification from Fr.Jean Marie Gleize, or Econe or the SSPX (USA), to these blog posts sent to them. The SSPX (USA) makes the same error in a book written by Fr.Francois Laisney and published by the Angelus Press.Fr. Pier Paulo Petrucci has given the imprimatur for a few books in Italian which indicate that there are known exceptions in Vatican Council II to Tradition, there is a via eccezionale.
SSPX PRIOR AT ALBANO,ITALY SAYS WE DON'T KNOW ANYONE SAVED IN INVINCIBLE IGNORANCE AND THE BAPTISM OF DESIRE
SSPX PRIESTS IN ALBANO,ITALY DISAGREE WITH U.S WEBSITE: THERE ARE NO KNOWN EXCEPTIONS TO EXTRA ECCLESIAM NULLA SALUS IN VATICAN COUNCIL II
http://eucharistandmission.blogspot.it/2013/09/sspx-irrational.html#links